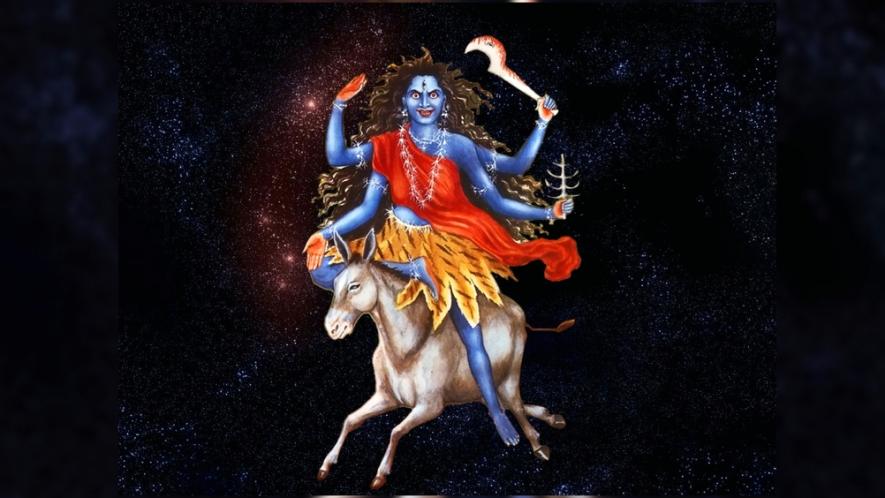 Goddess Maa Kalratri is worshiped on the 7th day of Navratri, which is the seventh incarnation of Goddess Maa Durga among Nav Durga. It is believed that she is the most violent goddess of the nine goddesses of Navratri.


Mother Kalratri's looks

The 7th day of Navratri Devi, Goddess Maa Kalratri has the form of a dark (black) colored night, frightening hair and her presence is very frightening. The donkey is described as her ride. Her four hands are depicted. Her right hand is in Abhay and Varada pose while she holds sword and deadly iron hook in her left hand.

Importance of Navratri 7th Day

The seventh day of Navratri has special significance because the 7th day of Navratri is worshiped to awaken the powers and attain Siddhis. Mother Goddess Kalratri removes all kinds of fears, tribulations and problems from the life of the devotees and fills it with peace, strength, good standing and courage.

The story

When Goddess Maa Parvati removed the outer skin to kill the demons named Shumbha and Nishumbha, she was known as Kaalratri Maa.

Maa Kalratri Devi is the fiery form of Goddess Parvati. According to Hinduism, Goddess Maa Durga had to come to destroy the cruel demon Raktabeej in her most terrible avatar - Goddess Kalratri.

No one in the Dev Sena could kill Raktabeej as one drop of his scattered blood was able to create another avatar of Raktabeej. Goddess Durga had to come in a Kalratri avatar to kill him. He kept a vessel (pot) to keep and assimilate the whole blood so that no more blood came into existence for the fight.
मंत्र (Mantra)
ॐ देवी कालरात्र्यै नमः (Om devi kaalratraaiye namha)

या देवी सर्वभू‍तेषु माँ कालरात्रि रूपेण संस्थिता। नमस्तस्यै नमस्तस्यै नमस्तस्यै नमो नमः(Yaa devi sarvabhuteshu maa kaalratri rupen sanstitha)