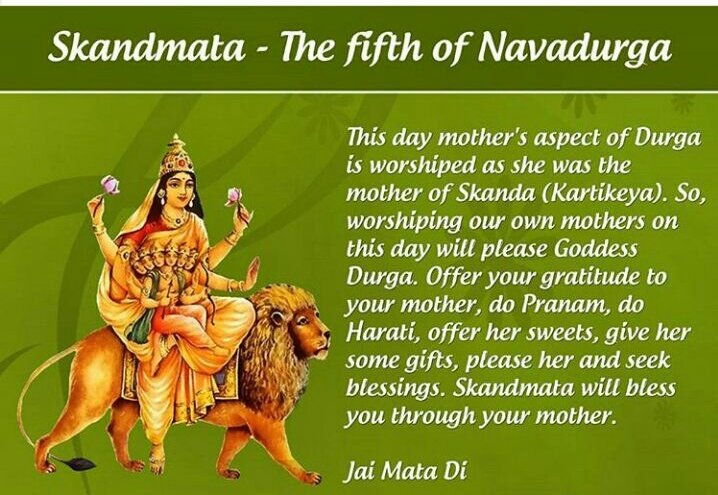 Who is Goddess Skandamata?

When Mata Parvati became the mother of Lord Kartikeya (Lord Skanda), she came to be known as Skandamata. The 5th day of Navratri is dedicated to the worship of Navadurga - the fifth form of Skandamata.

Importance of Goddess Skandamata

It is believed that she honors devotees with salvation, power, prosperity and treasure. She can provide an ocean of knowledge even to the most illiterate person if he worships them with full devotion. Skandamata, who possesses the glory of the Sun, fulfills all the wishes of her devotees. He who is selflessly devoted to them receives all the achievements and treasures of life. The devotee's heart is cleansed by worshiping Skandamata. His worship is ultimately conducive to liberation.

Important facts about Skandmata

Origin: As the mother of the god of war, Lord Skanda (Kartikeya), she is known as Goddess Skandamata.

Meaning: Mother of Lord Skanda

Puja Date: 5th day of Navratri

Planet: Mercury

Favorite flower: yellow rose

Favorite color: yellow

Skandamata Mantra: Om Devi Skandamataye Namah:(ॐ देवी स्कन्दमातायै नम:)

Other Names: Padmasana

Mother nature

Devi Skandamata's ride is Lion. She takes her son Skanda in her lap. Goddess Skandamata is depicted with four hands. She holds lotus flowers in her upper two hands. She holds son Skanda in one of her right hand and the other right hand in Abhayamudra.