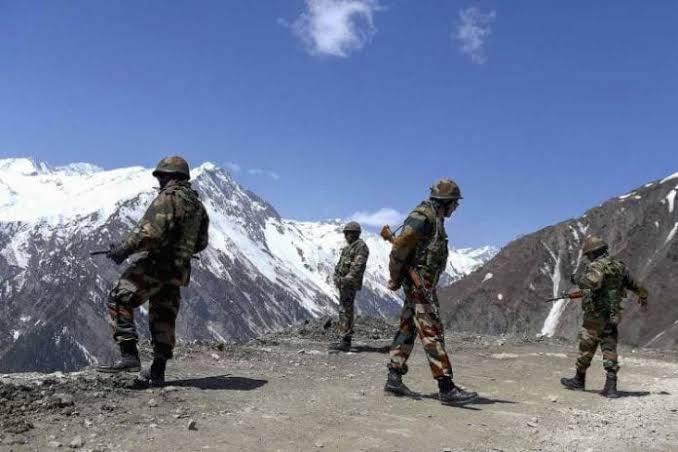 The Indian Army's action at south of Pangong-Tso Lake on the night of 29-30 August gave India a strategic edge over China, as well as the Kailash mountain range that India received for the first time after the '62 war. There is also a big opportunity to do it in our jurisdiction. Yes, rightly heard, Kailash Mansarovar's Kailash Range, one of the largest and sacred pilgrimage sites in India. Few people know that the closest route to Lake Kailash Mansarovar from India is through Ladakh.

Also Read : Something big is going to happen between India and china border
On the night of 29-30 August, the Indian Army has taken the entire area of ​​about 60-70 km south of Pangong-Tso Lake. ‌ Gurung Hill, Magar Hill, Mukherpari of this area under Chushul sector. And the Rechin-La Pass is part of all the Kailash range.

Also Read: Is China going to war? India's preparation is complete

Let me tell you that the shortest and easiest way to travel from India to the holy Kailash Manasarovar is from Ladakh. Before the war of '62, pilgrims used to go to Kailash Mansarovar Yatra from Demchok in Ladakh. The distance from Chushul to Demchok is about 150 kilometers. The distance of Kailash Mansarovar from Demchok next to it is about 350 kilometers. This Kailash mountain range extends from south of Pangong Tso to Kailash Mansarovar i.e. about 450 kilometers.

Also Read : India Deployed 100 Tanks, China Reacted
But this route was discontinued only after the war of '62. Even after this, the Chinese army kept trying to infiltrate Demchok or opposed the construction of roads and other infrastructure by India.

Also Read : India-China News Update : Air defense radar will be installed in Uttarakhand

The action of India from 29-30 August has stirred up the Chinese Army. The Chinese army wants to usurp the hills of these Kailash range at any cost. That's why a large number of Chinese soldiers are gathering around India's forward position. The Chinese Army with its tanks and ICV vehicles is setting up its base on the LAC-adjacent Moldo, Spangur Gap and Racine Grazink Land. Chinese soldiers have gathered there with spears and other medieval barbaric weapons. But Indian soldiers have made it clear that if the Chinese troops try to cross the barbed wire on India's forward position, then the Chinese army will be given a strong response like a professional-army.

Also Read : India-China border clash: Firing takes place on LAC in Eastern Ladakh
The Indian Army has deployed its entire tank brigade near Rechin-La Pass. In addition, infantry soldiers are deployed with rocket launcher and ATGM i.e. anti-tank guided missiles. So that if the Chinese army tries to move forward then it should be chased back.

Let me tell you that at present, China gives visas to some Indian pilgrims every year for the Kailash Mansarovar Yatra. These passengers travel on two routes to Kailash Manasarovar. The first is from the Nathula Pass in Sikkim and the second is from the Lipulekh Pass in Uttarakhand. But it takes a long time to reach Kailash Mansarovar Yatra from both the paths. Recently, India has built a new road from Dharchula to Lipulekh in Uttarakhand, which has reduced the time to reach Kailash Mansarovar. Kailash Mansarovar Lake, which has been in illegal possession of Tibet, is under Chinese occupation.
Also Read : Chinese soldiers brought sharp weapons to Indian post, intentions dangerous

China has been troubled by the road made by India to Lipulekh. This is the reason why China is preparing a new missile base near the holy Mansarovar lake. Close to this ground-to-air missile base, China has also done some new construction which can be a barrack for the soldiers. This was revealed by the recent satellite photos. Mansarovar Lake is very close to the disputed tri-junction of India-China-Nepal, Lipulekh, where China is continuously increasing its strength.

Open source intelligence, Detersf, revealed from satellite photos that China had launched one of the Surface to Air (SAM) (ground-to-air) missiles very close to the Mansarovar lake near Mount Kailash in Tibet. Preparing base. The construction of the new missile base is seen in these satellite images. These SAM missiles are commonly used for protection from air-raid of a sensitive military base or building. These missile systems provide protection from fighter-jets, helicopters or drones attacking from the sky.

Apart from this, Datasurf had also claimed on the basis of satellite photographs that some infrastructure development and some residential construction work is also visible near Mansarovar lake. This construction work is going on since the month of May this year.
Let us tell you that the holy Mansarovar lake close to Mount Kailash is a sacred shrine for Hindus. This lake is very close to the disputed area Lipulekh and Kalapani of this tri-junction. This is the same Lipulekh Pass and Kalapani area, which Nepal has recently declared its own by releasing a new map. However, these areas have been part of India for centuries and are under the jurisdiction of Pithoragarh in Uttarakhand. It is believed that the government of Nepal has included these areas in its new map on the incitement of China.